Born July 17, 2013, Daisy has been a larger than life addition to our family. Blessed with big eyes that can turn from inquisitive to heart melting in a moment, she is a sucker for attention and love. Daisy loves nothing more than finding a comfortable lap to sleep in. Another of her hobbies lies in exploring the plethora of objects and scents found on our property and the surrounding trails. With her tongue lolling out and tail wagging, it sometimes seems that she is laughing with us. Daisy is a perfect 15 pounds and has beautiful wee puppies.
David from Langley, BC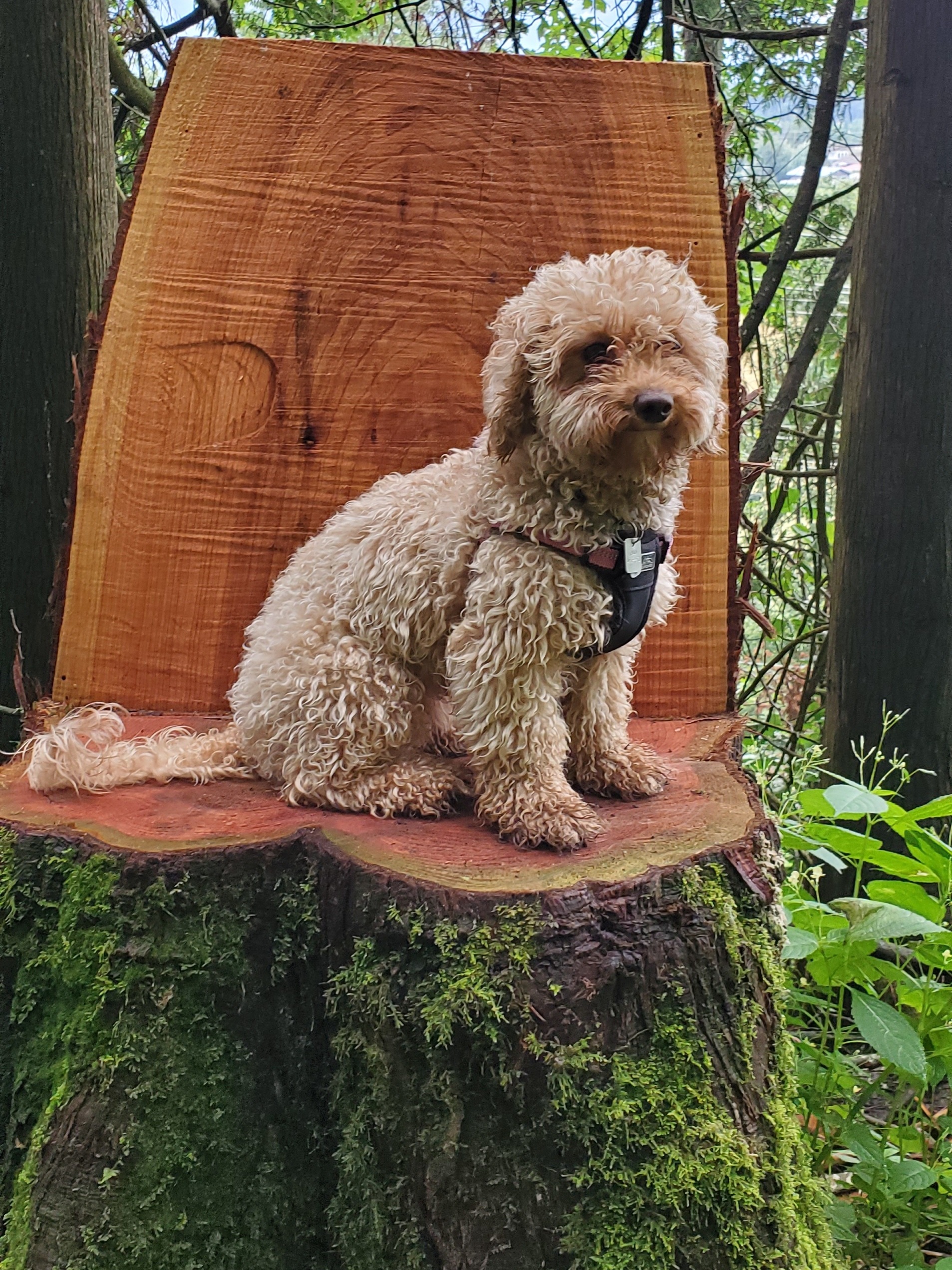 This little girl is Beleza, born in Feb, 2018. She has the sweetest temperament, a wonderful personality & has the softest blonde curls! She never misses an opportunity to say hello to everyone she meets & wins over friends very quickly! She is so tolerant of her young human siblings dressing her up & carrying her here & there. Beleza is a great little hiker & knows when the hiking shoes come out, it's go time! Camping & car rides are also on her list of favorites & she has has no problem going for rides in a bumpy, noisy off road vehicle, either! She is super smart when it comes to learning new things, training her was a breeze. She oozes confidence for a small dog, every new situation she faces head on & quickly adapts. Her partner in crime is the family cat, they are inseparable. She is the best little addition to our tribe.
Wendy and Mark from Chilliwack, BC
Buttons was born in February, 2018 and lives in Langley, B.C. with her family. She is well trained and has a frisky but gentle nature. She loves to go for walks, play with her toys, and spend time sleeping on her blanket. Another favorite activity is to watch and play with her toddler friend, Elyanna. Buttons loves to socialize with other people and dogs and adapts well to different situations.
Kristi and Joey from Langley, BC
Sedgwick is gentle and sensitive, and a calm dog. He weighs about 18 pounds. A longtime pet, he has been a great companion. Sedgwick has an adorable face that lights up with the arrival of visitors.
Eve from Langley, BC
Oreo Epp was born on September 21, 2018. He immediately stood out from his siblings as a bigger, white puppy with gold speckles and a strong personality. He is a very friendly dog, and spends a lot of time outdoors at the local park with friends. He rarely barks or growls, unless playing with other dogs. On a recent camping trip, Oreo was stated to be the "happiest dog in the campsite". His owners live in a Surrey condo tower, meaning Oreo is used to waiting for elevators! Oreo is just over 20 lbs, and is close to full-grown.
Gerald and Amanda from Surrey, BC.
Small but spunky describes Sparkle, our 8 pound female Mini Goldendoodle. With her gentle and obedient but occasionally adventurous spirit, she spends her time frisking with her mom and friends and finding things to chase at her home. She has beautiful smaller puppies admired by all who catch a glimpse of them.
Eileen from Langley, BC
Meet Chester, a loyal, good-natured example of our beautiful breed. He thrives at his home in Langley, BC, where he spends his time following his master around, romping with his friends, and enjoying the sunshine. Chester is a larger sized Mini Goldendoodle, weighing about 20 lbs, but he is very sweet and mild-tempered. He is not involved in our business, but instead is simply a pet who makes everyone he knows happy.
Benny from Langley, BC